Welcome to the 50 States Blog Hop!!
Welcome to the 50 States Blog Hop! Most of us would love to travel but are having staycations this year. What better way to travel but through a blog hop. This hop was inspired by our host
Shawnee
's journey across the United States as she traveled with her family to their new home. The United States is truly beautiful with many wonderful places to visit and see.
If you've hopped along from Connecticut, then you are in the right place!! If you are just joining me from your dashboard or happened along from somewhere else, please be sure to
CLICK HERE
to start with the first state in the union,
Delaware
, because you won't want to miss out on any of the fun (or any of the blog candy!!)...
There is an AMAZING Grand Prize Package for one LUCKY hopper (winner chosen by Rafflecopter)!! To be entered to win, please do the following:
So what's the Grand Prize???
Cricut Cartridge - Destinations, beautiful handmade flowers from
Shannon
at
Creative Chaos Flowers
, and a $20 Gift Certificate to
Scraptastical Kreations
.
Now on to my state and my project....
I was born and raised, and have lived most of my life in the state of Massachusetts.
I chose to do a layout portraying The First Thanksgiving at Plymouth Plantation. Plymouth is a HUGE tourist attraction for our state. People come from ALL over to see the MayflowerII and Plymouth Rock. Living here, and so close to Plymouth, you start to take for granted all the historical aspects of where you live, it's no big deal to me anymore. I can go to Plymouth everyday! LOL But, it really is an amazing place with a lot of history! I used the
Giving Thanks file
from Scraptastical Kreations for the Pilgrim, Tee-pee, Indian and table. I used pics that I founf on the net and wrote up a little summary of how Thanksgiving originally came to be. Hope you find it informative and fun! :)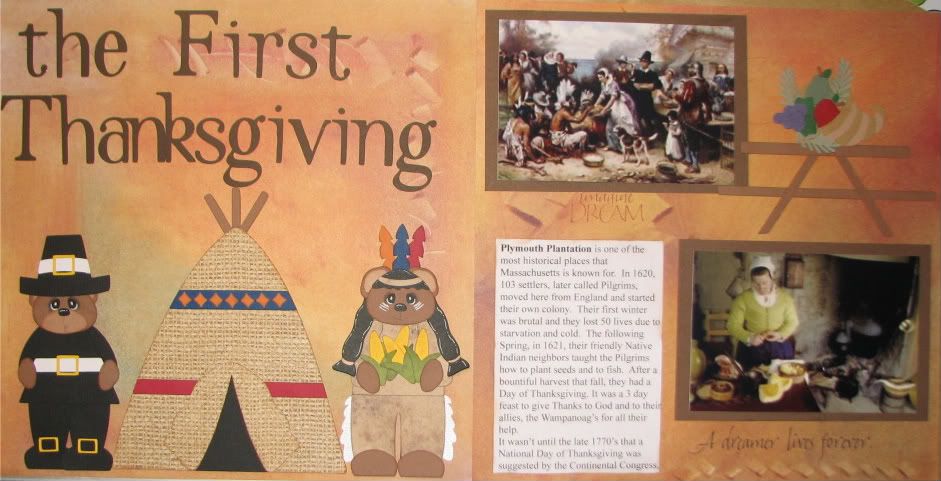 NOW.... for my CANDY!!!! I am giving ONE lucky winner the Giving Thanks file from Scraptastical Kreations! The file also includes a girl Pilgrim, turkey and a cornocopia! To be eligible, all you have to do is:
1. Become a follower of my blog and leave some love!
2. Go and LIKE my fan page
CBC Scrapbooking
and leave a comment on my wall.
I will choose a winner using random.org from everyone that qualifies and announce the winner on my fan page MONDAY morning!! Thank you and enjoy the hop!
Now you can hop to
Maryland
!!!! Remember to leave a comment on each state to be eligible for the GRAND PRIZE!!
.............